High Precision Oil Purifier is the oil infusion and purification device, which is developed by our company, has practical design, can convenient move and simple maintain, with low noise, high adsaptia1 and stable operation.
There are two-stage fine filters in back of the pump, which can make oil rapidly achieve high cleanliness. The pipeline is provided with overflow protection device, can efficiently protect safety of hydraulic pressure system. It adopts thermal relay protection to prevent motor from damage caused by overloading. The coarse filter in suction orifice can protect oil pump and increase service life of filter. We can design fine filter precision according to customer requirement, in order to achieve required service condition.
The pressure gauge is installed on control panel to continuous indicate operation condition of system and pollution condition of cartridge during working. The filter shell adopts quick open structure, can rapidly open upper cover and replace Filter Cartridge without using any tools.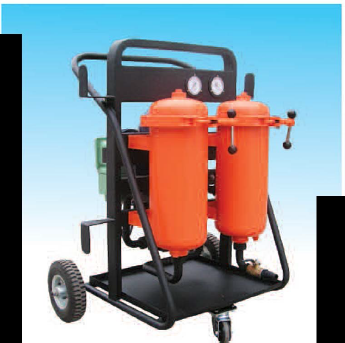 Product Application
-The oil infusion and purification for hydraulic and lubricant system.
-As a by-pass filter in hydraulic and lubricant system during working.
-Cycle filtering before operation of hydraulic and lubricant system.
-Connect with hydraulic and lubricant system to completely increase cleanliness of system.